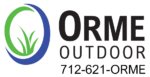 Business Address
1100 Senate Ave.
Red Oak, Iowa 51566
Business Description
Orme Outdoor is a commercial & residential service provider for lawn care, landscaping, grounds maintenance, ornamental turf, and pest control.  Orme Outdoor is a locally owned business serving the southwest Iowa area since 2006.
Business Address
P.O. Box 684
Red Oak, Iowa 51566
Business Description
Tree trimming, tree removal, and stump grinding.