Lawn Care Supplies
Business Address
1605 North Broadway
Red Oak, Iowa 51566
Business Description
Hy-Vee is a full service supermarket featuring a pharmacy, catering, florist, bakery, wine and spirits, and lawn and garden department. "A helpful smile in every aisle!"
Business Address
315 East Reed Street
Red Oak, Iowa 51566
Business Description
We offer full service retail shipping for everything needed for your home, business, farm & family including hardware, tools, paint, plumbing, electronics, office supplies, automotive, cards & gifts, televisions, appliances, and rental equipment.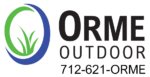 Business Address
1100 Senate Ave.
Red Oak, Iowa 51566
Business Description
Orme Outdoor is a commercial & residential service provider for lawn care, landscaping, grounds maintenance, ornamental turf, and pest control.  Orme Outdoor is a locally owned business serving the southwest Iowa area since 2006.