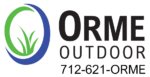 Business Address
1100 Senate Ave.
Red Oak, Iowa 51566
Business Description
Orme Outdoor is a commercial & residential service provider for lawn care, landscaping, grounds maintenance, ornamental turf, and pest control.  Orme Outdoor is a locally owned business serving the southwest Iowa area since 2006.
Business Address
2143 Tahoe Place
Clarinda, IA 51632
Business Description

Residential and Commercial Pest Control


Service we provide: Pesticide treatment to combat household pest such as spiders, flies, ants, cockroaches, beetles, crickets, box-elder bugs, mice and rats.


Interior/exterior perimeter treatment.